As a general warning, this page contains spoilers! Don't scroll down if you don't want to be spoiled on what can be considered the 'end' point of story mode.
-
-
-
-
-
-
-
-
-
-
-
-
-
-
-
-
-
-
Home Island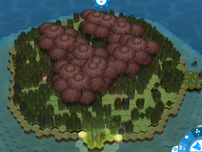 Home Island is a reward for those who managed to traverse through the most difficult islands, passing through several "locks" that must be overcome in order to reach it.
Despite being classed as a "Killer" island, Home Island is quite easy to live on - there is abundant food in the acorn trees and berry bushes, while rabbils and stagmoles spawn very often. The greatest trouble you will have is dealing with the tribe that already lives on the island...
Adam's Family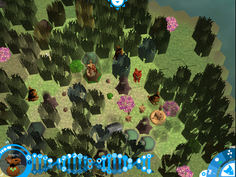 Home Island is where Adam originally lived, his family continues to live on the island. They act much like wandering Nichelings, however there is only so many of them and they will eventually die out and leave the island to you.
Unlike wandering Nichelings, Adam's family can only be interacted with if you make it to Home Island while one of your creatures still has Home Island Immunity. With it, you can invite them to join your tribe.
All of Adam's family have the Poison Fangs snout, two Runner Legs, the Stripes pattern and one Home Island Immunity. The body type can vary, and while all will show Normal Ears, some of the tribe will have Round Ears as a recessive. This is the only reliable way to get Round Ears unlocked in the Mutation Menu without being very lucky with wanderers.
If you've lost Home Island Immunity, the only thing you can do with Adam's family is attack them, which is not advised - attacking one creature will turn ALL of them hostile to your tribe. They will attack en mass, and can quickly overwhelm you.
In release versions (confirmed up to 1.0.1), there is a bug where all of Adam's family will spawn as a single gender.
Achievements
There are two achievements associated with Home Island. "Homecoming" simply requires you to make it to Home Island, and can easily be unlocked by starting a sandbox game on Home Island. "Family Reunion" requires you to have the Home Island Immunity in your tribe and invite one of Adam's Family to join you.
As of 1.0.1, the Family Reunion achievement is currently bugged and will not unlock.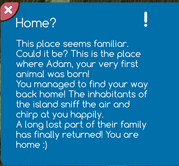 Arrival Text
Upon returning to the Home Island, you will receive a notification informing you that you've managed to return to Adam's home. Depending on whether or not you managed to keep the Home Island immunity gene within your tribe dictates whether the remnants of Adam's family will allow you to recruit them into your tribe.